Lufthansa has announced that it will enter the Northern Irish market for the very first time, with operations commencing from George Best Belfast City Airport in April next year.
The airline will offer four times weekly direct flights to Frankfurt commencing 23rd April 2023.
Katy Best, Commercial Director at Belfast City Airport which is located only five minutes from Belfast City centre, commented: "Attracting an airline such as Lufthansa to Northern Ireland that will provide the only route from the region to Germany is a major win for, not only the airport, but the wider tourism and business industry.
"With Germany being the third-largest market for overseas tourism to the island of Ireland, there is a clear demand for direct connectivity. Frankfurt is an important city for commerce, culture and tourism and its airport is one of the busiest in Europe.
"As a base for Lufthansa, Frankfurt is a key destination in its network and gives passengers an attractive option for connecting flights to markets further afield.
"Lufthansa's commitment to excellent customer service and great value makes it a superb fit for Belfast City Airport and we look forward to welcoming passengers travelling to Frankfurt and beyond to the terminal."
Flights to Frankfurt will be operated on Mondays, Wednesdays, Fridays and Sundays by an Embraer aircraft and will offer both Business and Economy class services.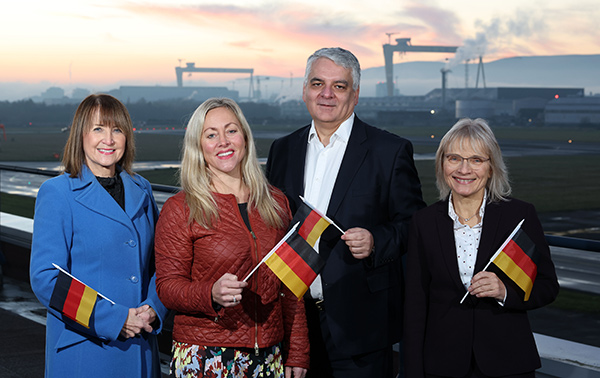 Pictured:
Ann McGregor, Northern Ireland Chamber of Commerce (far left), Katy Best, George Best Belfast City Airport (left), Mel Chittock, Invest NI (right) and Marion Lübbeke (far right) welcoming the news that Lufthansa will commence operations in Northern Ireland in 2023. The airline will operate four flights per week from Belfast City Airport to Frankfurt, providing the only air link between Northern Ireland and Germany.