easyJet announces restart of services from June
From 15th June, EasyJet will operate a small number of mainly domestic flights from 22 European airports, including Belfast International, Edinburgh, Glasgow, Inverness, Isle of Man and Newcastle.
The airline is also introducing new measures to help ensure the safety of passengers including enhanced aircraft cleaning and disinfection and the requirement for passengers and crew to wear masks.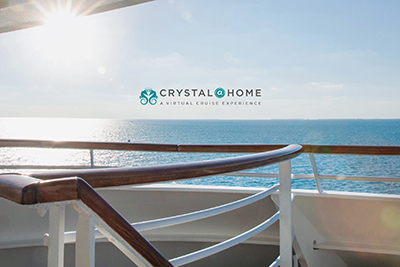 Take a virtual cruise with Crystal
Crystal is sharing its Crystal Experience while everyone remains at home by offering a new virtual programme – Crystal@Home: A Virtual Cruise Experience.
A weekly series of live streaming events, stories, conversations, an Insider blog and podcasts on various social media platforms will allow aspiring travellers to interact with Crystal and each other.
Crystal@Home will showcase a weekly virtual voyage featuring the many different aspects of the Crystal Experience and details can be found each week at https://www.crystalcruises.co.uk/crystalathome
Crystal@Home debuts with Sunday Cooking with Chef Jon Ashton this Sunday, 5th April at 8pm via Facebook Live on the Crystal Cruises' Facebook page.
CMV looks to 2021
Cruise & Maritime Voyages is reporting that bookings are still being made for later this year and 2021, including for CMV's new flagship Amy Johnson, due to sail on her Maiden Voyage in April 2021.
Three cruises sailing on board Amy Johnson from London, Tilbury in 2021 are proving to be top sellers and are all well over 50% sold. The Grand British Isles Discovery departs 12th July 2021 for 10-nights and is currently from £849pp. The Grand Canada, Greenland, Iceland & Northern Lights itinerary sails 4th September 2021 for 35 nights with fares from £2,579pp. The Grand Black Sea & Mediterranean cruise on board Amy Johnson departs 9th October 2021 for 32 nights, with fares from £2239pp.
CMV is offering Buy One Get One Free deals which extend, subject to availability, until 31st May 2020.
Finnair to start flying again from Edinburgh
Finnair has announced that it will start flying again from Edinburgh to Helsinki in July, with four flights per week.
The Finnish flag carrier will review its schedule on a monthly basis and update it as travel restrictions are eased and demand starts to recover. By September, flights from Edinburgh will be back to a six-times weekly service to Helsinki.
Finnair will flexibly add flights as demand develops and keep all fleet movements constantly under review. The flight schedule will also take into account the changes in travel restrictions in different countries.
The airline is also offering customers the flexibility to change travel dates until the end of June.
Become a virtual traveller with G Adventures
G Adventures is introducing new Virtual Travel Experiences, including virtual walking tours and virtual backdrops for Zoom. Virtual travellers can sign up here.
These weekly series will feature cities including Buenos Aires, Antigua in Guatemala, Cape Town and Hanoi. Led by local CEOs and utilising Google Maps and photos, CEOs will "walk" viewers around their city, while sharing insider secrets, history and tips.
Virtual backgrounds are designed to liven up Zoom video conference calls or hang out and the first collection features each of the seven continents.
New treats from Celebrity Cruises
Celebrity Cruises has launched an enhanced version of its Celebrity Rewards agent programme.
Each week, a new e-voucher will be added to the Rewards catalogue, enabling agents to enjoy a range of home entertainment and dining treats during lockdown, including a gift card from Netflix.
Agents should stay tuned on Celebrity Cruises' Travel Agent Facebook Page, where the rest of the new e-voucher options will be revealed.
Celebrity Rewards allows agents to earn up to £20 for every new booking they make, equating to 2,000 points. The Netflix catalogue of e-vouchers requires a minimum of 2,500 points from new or existing bookings, so the enhanced programme is great news for agents with points already in their account.
To sign up Celebrity Rewards, visit www.celebritycentral.co.uk
New measures from Silversea
Silversea Cruises has reduced its deposit requirement to £750 per suite for any new booking made before 30th June 2020 and on final payment, the deposit will be turned into a USD$1,000 Onboard Spending Credit per suite. The reduced deposit offer applies to all Silversea voyages with the exception of full World Cruises and Grand Voyages.
The cruise line is also extending the previously announced 'Cruise with Confidence' cancellation programme to all voyages currently scheduled to depart before 31st December, 2020. Under the policy, guests may cancel their cruise for any reason up to 48 hours prior to sailing and receive a 100% Future Cruise Credit for the amount paid, valid for two years from the date of issue.
When guests opt for Future Cruise Credit and have paid in full, the travel agent's commission is protected for both the cancelled booking and the future reservation on which the correlating Future Cruise Credit is applied.
Get in touch...
If there are stories you want us to cover, destinations you want us to research and report on, or you want to share industry information with others, then please let us know!
A message from the
TM team
As we all face the enormous challenges brought about by the COVID-19 pandemic and adapt to the changes from lockdown, our lives have changed significantly, both at home and at work.
At this unprecedented time, all we can do is to stay safe and stay at home until hopefully, life can return to some form of normality.
Due to the current government restrictions and social distancing measures in force, we have suspended the printing of Travel Matters for May. Our website and social media platforms will continue to publish updates from the travel industry so if you have any messages to convey, please feel free to contact us on: editorial@travelmatters.biz.
Look after yourselves.
Gary, Andrea, Hilary & Gregorz